Exclusive XMAS Event - December 14, 2022

December Exclusive XMAS Event
We got lucky!
Integrasys kindly volunteered to sponsor our XMAS Event.
We have 20 seats fully sponsored by Integrasys, including a 3-course dinner and drinks.
The seats will be assigned on a first come first served basis, so make sure to register as soon as possible.
Wednesday, 14 December

18:30 reception
19:00 special keynote by Integrasys, Sergio Encabo Del Alamo, head of BeNeLux

Followed by a 3-course dinner

at the well known Kulturhuef Bistro

54 Rte de Trèves, 6793 Grevenmacher, Luxemburg
We are looking forward to seeing you all again.
Register now!​
Kerstin, Thomas, Stephan, Thomas
Please note:
By registering to this event, you agree that SSPI is allowed to share your contact details with the sponsor Integrasys as given in the registration process.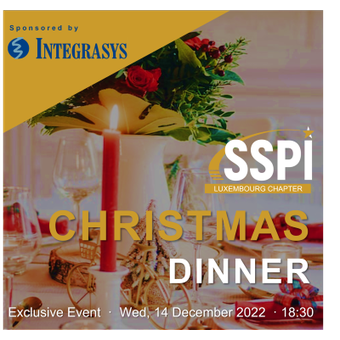 Kulturhuef Bistro, 54 Rte de Trèves, 6793 Grevenmacher, Luxembourg